Affirmative Action Plan Requirements, plus
Affirmative Action Plan Consultant Buyer's Guide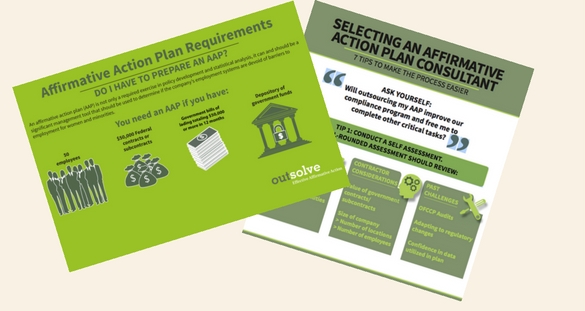 Companies are often confused as to whether they have to prepare an Affirmative Action Plan. If they do, they're not sure how to go about getting the plan prepared. These two resources will help.
The Affirmative Action Plan Requirements one-sheet will inform you if you need an AAP.
The Guide to Selecting an Affirmative Action Plan Provider will walk you through the process of determining how you will get your AAP prepared. Specifically, it will provide:
An overview of common players in industry
Important points to consider when comparing vendors
Questions to guide conversation during sales calls
By submitting this form you will receive an email from OutSolve with your requirements one-sheet and guide.
To view more client testimonials visit: OutSolve Reviews